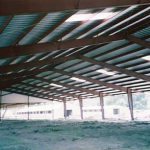 Choosing the right company for your metal and steel building needs can help you manage these construction projects in the most cost-effective and practical ways. Whether you need pre-engineered Houston metal garages or start-to-finish design and construction, here are some of the most important factors to look for in your steel and metal building company.
Experience
Metal and steel building projects require extensive experience and specialized expertise to ensure the durability and quality of the finished product. Making sure the company you choose has the experience and know-how to manage these Houston building systems can provide you with added peace of mind and confidence throughout your construction project.
References
Established companies with proven reputations for quality can typically provide you with references for their previous projects. In some cases, they may also provide you with a portfolio of photographs detailing earlier work. Contacting references can sometimes provide you with added information on what to expect when working with the company and can offer insights into the processes and the quality of work performed by your chosen construction firm.
Quality
High-quality metal buildings start with the best materials. Asking a few questions about the types of materials to be used in your project and the expected durability of these materials can help you make the most cost-effective and practical decisions regarding your steel buildings in our area. Paying a few dollars more during construction could pay off in increased longevity and improved utility from your Houston steel buildings.
Engineering Skills
In many cases, Houston metal garages and other types of buildings require extensive engineering and design to ensure that they suit your needs and are appropriate for the location. Ensuring that your metal buildings are engineered and designed to last can help you feel more confident in the outcome of your construction projects. If your building requires a poured foundation, making sure the company you choose either works with an established subcontractor or performs these services in-house on a routine basis can help you ensure the best possible results for your Houston metal building needs.
At Aerohaus Metal Buildings, Inc., we design and build all types of Houston steel buildings from hangars to garages and commercial building projects. We work with companies across the Houston metropolitan area to ensure the highest quality work at fair prices. With 36 years of progressive experience in the steel and metal buildings industry, we can deliver the right results for your company. Call us today at 281-890-4700 to get a quote for your project or to discuss your needs with us. We look forward to the opportunity to serve you.