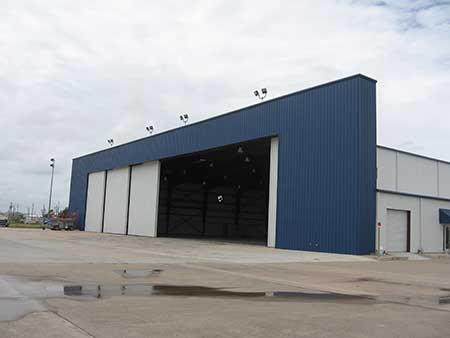 Keeping aircraft protected from wind, rain and bad weather is essential to ensure the greatest longevity for these airplanes, helicopters and gliders. At Aerohaus Metal Buildings, we specialize in creating Houston hangar buildings designed specifically to keep your aircraft safe from the elements and in peak operating condition. We can provide you with cost-effective pre-engineered building solutions to suit more general needs. If you need customized protection for your aircraft and flight supplies, Aerohaus Metal Buildings can design your ideal hangar from the ground up, allowing you to enjoy the benefits of tailor-made surroundings for your vital aircraft and equipment.
Custom-Designed Houston Hangar Buildings
The right amenities can make a big difference in the utility of your Houston hangar. Aerohaus Metal Buildings can provide you with added features that can significantly improve your experience with your new hangar. From added insulation to custom doors and windows, we can deliver the best options for your Houston metal buildings. These features can improve the environment for your aircraft and can reduce the risk of damage to airplanes, helicopters and gliders stored in your facility.
An Enduring Legacy of Quality
Since 1980, Aerohaus Metal Buildings has been serving the Houston area with pre-engineered and custom construction solutions designed to meet the needs of modern organizations and businesses. Our construction engineers can provide you with the expertise needed to ensure that your Houston metal buildings are well suited to your requirements and to your budget. We are committed to providing you with the most durable and cost-effective Houston building systems in the industry.
Added Choices for Your Business
Along with our hangar buildings, Aerohaus Metal Buildings offers a range of prefab Houston metal garages that can offer added protection for fleet vehicles and other equipment. Our Houston metal barns are ideal for storing tractors or providing shelter for horses and other livestock during violent weather. For greater durability and increased performance in severe weather, our Houston steel buildings are designed to deliver exceptional performance for all types of applications.
Easy Shipping in Texas or across the Country
The products offered by Aerohaus Metal Buildings are pre-engineered and prefabricated to make assembly simple for you and your company. This allows us to ship our Houston building systems anywhere you require a sturdy, attractive metal building. We can ship throughout the U.S. and to select locations overseas, allowing you the greatest flexibility in managing your construction needs on a global scale. Wherever you need a little added space or more, Aerohaus Metal Buildings can deliver the best solutions for your company's needs.
To learn more about our lineup of Houston metal buildings and how they can provide you with added options for storage, hangar space and other activities, call Aerohaus Metal Buildings today at 281-890-4700. We look forward to the opportunity to work with you.