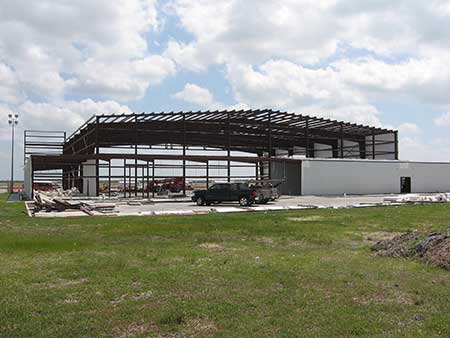 Turnkey construction solutions are becoming more popular in Houston and across the U.S. These innovative strategies are designed to allow companies to manage staff time and effort more effectively. By investing in prefabricated Houston building systems, your business can reduce the cost of construction while enjoying the highest quality for your project. Aerohaus Metal Buildings can provide you with top-quality pre-engineered metal buildings that are easy to ship and easy to erect, allowing you to enjoy the greatest flexibility when breaking ground for a new business or expanding your current operations.
The Turnkey Construction Difference
At Aerohaus Metal Buildings, we are known as a leading source for Houston hangar buildings and other metal structures. We specialize in prefabricated and pre-engineered systems that can be set up on your site or shipped to almost anywhere in the world. This allows your company to enjoy true turnkey construction options where you need them most. By entrusting your project to Aerohaus Metal Buildings, you can be sure of the best prefabricated selections for your business locally and globally.
Custom Buildings for Specific Needs
The expert design team at Aerohaus Metal Buildings is well equipped to take on the challenges of customizing your Houston metal buildings. We offer a full line-up of Houston steel buildings suitable for use in a wide range of industries. Our Houston metal barns are ideal for farm storage or livestock management. We can construct versatile Houston metal garages for the repair, maintenance and storage of your vehicles and equipment, allowing you to manage the costs of these activities more easily. Whatever your needs, our team of professional designers can deliver customized solutions for your company.
Taking Your Project from Start to Finish
Your building process begins with your first consultation with Aerohaus Metal Buildings:
Our friendly and knowledgeable staff members will sit down with you to determine the most important priorities for your project.
We will then present you with options that include both pre-engineered metal buildings and custom designs created just for you.
When you have decided on the parameters for your project, we will work to stay within your budget while delivering the best and most practical solutions for your company.
We will be on-site throughout the construction process to ensure that you receive the personalized attention necessary to ensure the successful completion of your project.
Our professional approach to your construction needs ensures that you will enjoy the most cost-effective and useful solutions for all your Houston metal buildings and turnkey construction projects.
At Aerohaus Metal Buildings, we have more than 35 years of experience in the Houston building systems industry. We work with our customers to make sure that their experience with us meets or exceeds their expectations. Call us today at 281-890-4700 to set up your initial consultation or to discuss your needs with one of our friendly customer service representatives. We look forward to working with your company.