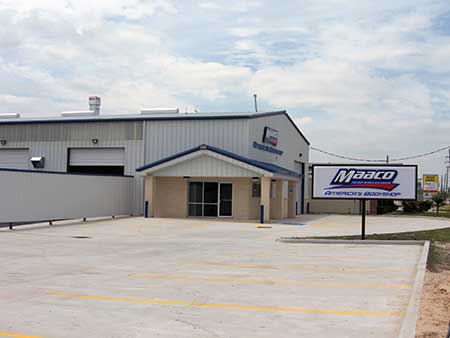 Metal buildings are ideally suited to the hot climate and humid conditions often experienced during Houston summers. At Aerohaus Metal Buildings, we specialize in providing our clients with pre-engineered and custom-made Houston metal buildings designed to suit their needs. Our expert engineers can provide you with the options needed to manage budget concerns and to create the space your company or organization needs to achieve its ongoing goals.
A Proven Reputation for Excellence
Aerohaus Metal Buildings has been in business in the Houston metropolitan area since 1980. In that time, we have built a loyal following of satisfied customers thanks to our solid commitment to quality and craftsmanship. We design and install Houston steel buildings for use in a wide range of industrial and commercial applications.
Our Houston hangar buildings are designed to last and to provide real security for valuable aircraft and other supplies.
For agricultural enterprises, the Houston metal barns constructed by Aerohaus Metal Buildings can provide added storage for equipment or increased space for livestock and poultry.
Our construction experts can help you design the most practical solutions for warehousing and distribution tasks at a cost that will not break your corporate budget.
We offer pre-engineered solutions for Houston metal garages that can cut costs while maintaining the highest quality for your business.
The metal sheds and outbuildings available from Aerohaus Metal Buildings can be used in a wide range of commercial, industrial and residential environments for added storage space and increased flexibility.
Aerohaus Metal Buildings can also ship our Houston building systems to your locations across Texas or throughout the U.S., allowing you to enjoy the convenience of our turnkey solutions at a price your company can afford.
We offer the perfect combination of durability and affordability to ensure that your metal buildings are well suited to your needs and built to stand the test of time.
Solutions for Every Construction Need
Along with our build-to-suit solutions, Aerohaus Metal Buildings can deliver a selection of prefabricated and pre-engineered metal buildings to lower your costs and provide faster service for you. We carry all sizes of Houston steel buildings from 30 by 30 by 10 feet to 300 by 300 by 40 feet. Larger metal buildings are available and can be designed to meet your specifications. Whether you prefer the convenience and fast delivery of prefab metal buildings or the benefits of build-to-suit units, Aerohaus Metal Buildings can provide you with the most cost-effective solutions for all your metal building construction needs.
The construction team at Aerohaus Metal Buildings can help you decide on the right building solutions for your needs. Whether you are looking for a low-cost way to expand your business, storage space or seeking to upgrade your facilities to serve additional customers, we can provide the smart solutions you need to achieve your goals. Call us at 281-890-4700 to schedule a consultation with our experienced engineers. We look forward to serving your building needs.