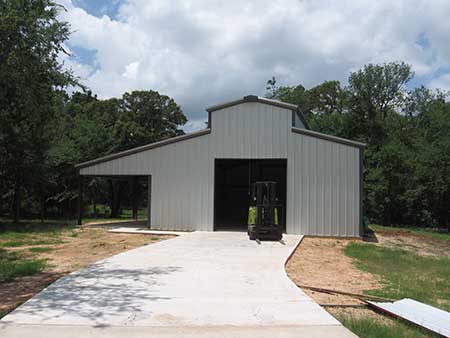 The right storage and management solutions are critical for those in the agriculture industry. At Aerohaus Metal Buildings, we specialize in providing our clients with pre-engineered Houston metal barns designed specifically to meet their needs. Our construction experts are well versed in the most cost-effective and practical solutions for farmers and ranchers. We can create prefabricated and custom metal barns designed to suit the way you operate your business today.
Your Metal Barn, Your Way
Whether you primarily use your barn to store farm equipment, seeds and other inventory or to provide shelter for horses, cattle and other livestock, Aerohaus Metal Buildings can provide the right solutions for your needs. We offer a full line of Houston steel buildings rugged enough to stand up to almost any use and abuse. Our construction design team can create a custom barn configuration that suits your requirements perfectly.
Comprehensive Support for Your Business Plan
At Aerohaus Metal Buildings, we also deliver the best in Houston hangar buildings to help you manage aircraft storage and maintenance tasks. Along with our exclusive metal barns, we can design and build Houston metal garages to suit your specifications. Alternatively, you can select from our lineup of prefabricated and pre-engineered Houston building systems to reduce your initial costs and ensure the fastest results for your project. By discussing your storage and space management needs with our team of knowledgeable professionals, you can create a customized plan precisely right for your operation.
The Right Solutions for Your Farm
Our Houston metal buildings are ideal for use in our area thanks to their durability and resistance to the effects of humidity, rain and other weather events. The experts at Aerohaus Metal Buildings can provide you with comprehensive solutions that can help you manage your farming tasks more effectively. Our steel barns are ideal for providing shade and shelter for livestock and horses during periods of intense heat, major rainstorms and extreme weather, allowing you greater flexibility in managing care for your livestock and equipment.
Putting It All Together
By setting up a consultation with the design and fabrication experts at Aerohaus Metal Buildings, you can take advantage of our more than 35 years of experience in the metal construction industry. We can help you select the most cost-effective solutions for your needs. Our practical approach to construction and fabrication allows you to purchase with confidence from us. Whether you need a small barn for feeding and animal care or a large storage barn designed to hold equipment and inventory, Aerohaus Metal Buildings can provide the right buildings for all your agricultural needs.
Whether your agribusiness needs turnkey construction solutions or custom barns designed to your specifications, Aerohaus Metal Buildings can provide the right services for your farm. Call us today at 281-890-4700 to discuss your project with one of our experienced construction technicians. We look forward to working with you.