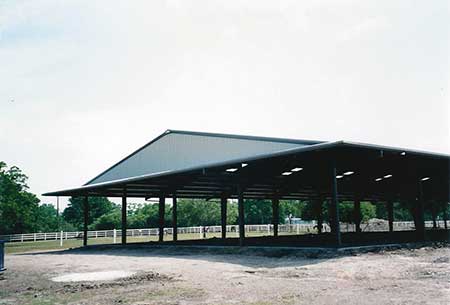 Rodeos and horse shows have been part of Texas culture for centuries. Creating the right venues for these popular events is critical to ensure the ongoing success of your business venture. If you need to create rodeo or horse show arenas, stockyards or stables for your ongoing operations, Aerohaus Metal Buildings can help with the most beautiful and practical buildings and spaces designed specifically to meet your needs. Our family-owned business is dedicated to providing you with top-quality workmanship at affordable prices to allow you to shine in the competitive marketplace.
The Best in Houston Metal Arenas
Aerohaus Metal Buildings has been serving the Houston community for over 35 years with the best options in the prefabricated and pre-engineered steel and metal building marketplace. We have constructed Houston hangar buildings to keep aircraft secure from theft and safe from storms. Our Houston metal barns are designed to stand the test of time and to provide outstanding support for farmers across our area. We also offer a line of Houston metal garages designed for residential and commercial use. Our metal arenas are constructed of solid steel to provide optimal strength and support for attendees at these special events and outdoor extravaganzas.
Designed for Equestrian Competitions and Rodeos
Whether you are running a stockyard, a rodeo or an equestrian competition, the right buildings can make a big difference in your attendance and your profitability. At Aerohaus Metal Buildings, we have many years of experience in creating Houston steel buildings that offer a perfect balance between affordability and durability. Our expert design team can help you come up with the perfect configuration for your special events or regular sales, ensuring that your patrons and guests enjoy absolute comfort while observing or participating in these important cultural events.
Stables and Animal Accommodations
Aerohaus Metal Buildings can also design and build stables and other accommodations for cattle, horses, sheep and other livestock. These sturdy metal buildings are ideal for all types of animals and can be used to contain and care for livestock in an arena or stockyard environment. Our expert design team will work with you every step of the way to ensure that your finished project looks and works exactly the way you envisioned, allowing you to enjoy the greatest ease of use for your new arena, stable and surrounding buildings.
At Aerohaus Metal Buildings, we deliver the proven expertise and innovative solutions you need for hosting equestrian contests, livestock shows and sales and rodeos in the Houston area. Our professional design staff will help you customize your construction project to suit your needs to a tee. We can provide you with build-to-suit or turnkey solutions designed with your company in mind. Call us at 281-890-4700 to learn more about how we can help you create the rodeo or equestrian arena your company needs to succeed in the greater Houston area.