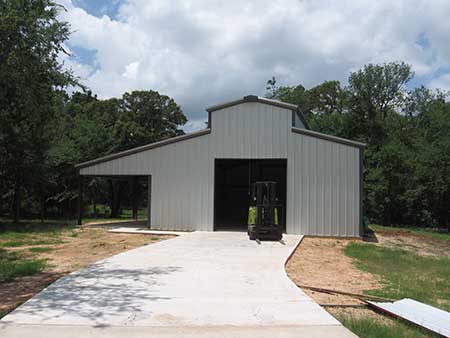 Prefabricated metal buildings are ideal for workshops and service centers. These advanced Houston building systems offer a winning combination of low cost and exceptional durability to make your workflows easier. At Aerohaus Metal Buildings, we offer an array of options designed to provide you with the space you need. Our Houston metal garages are available in a wide range of configurations that offer superior security and protection for your equipment and other important machinery in your workshops. We work with you to create custom workshops that efficiently encompass all stages of your services.
The Best in Houston Steel Buildings and Metal Structures
We are perhaps best known for our Houston hangar buildings and turnkey construction services. However, the team at Aerohaus Metal Buildings can provide you with outstanding solutions for all your needs. We are a family-owned and operated business with more than 35 years of experience in the metal fabrication field. Our pre-engineered and prefabricated systems can speed the construction process to help you achieve your goals more quickly. Whether you need prefabricated Houston metal barns or customized workshops designed to your exact specifications, Aerohaus Metal Buildings can deliver the most durable and cost-effective solutions for all your needs.
Building the Perfect Workshop
Your building process will begin when you meet our design experts for a consultation. We will discuss your space and configuration needs to determine whether a prefabricated design is most appropriate for your needs. If you require extensive changes to our standard designs, Aerohaus Metal Buildings will create a customized layout that suits your requirements and your budget. We will work with you to create the most productive work environment for your machine shop or manufacturing operation.
Integrating Workflows for Your Houston Metal Buildings
One factor to consider when planning your new workshop is the way in which work will flow through this area. The experienced design team at Aerohaus Metal Buildings can help you make the most of your available space and can provide you with value-added features like insulation, protective coatings and fixtures to promote greater productivity and increased ease of use for your new custom facilities. We can even ship prefabricated metal building systems across the state of Texas, across the U.S. and to selected destinations around the world. By choosing Aerohaus Metal Buildings for your new workshop, you can enjoy the greatest flexibility and the highest quality craftsmanship for all your metal structures and buildings.
At Aerohaus Metal Buildings, we deliver the best in Houston metal buildings and building systems for you and your company. We work with you to ensure your complete satisfaction with all our products and services. To learn more about our lineup of workshop configurations and how they can help you achieve your corporate goals, give us a call at 281-890-4700. We look forward to helping your business grow.