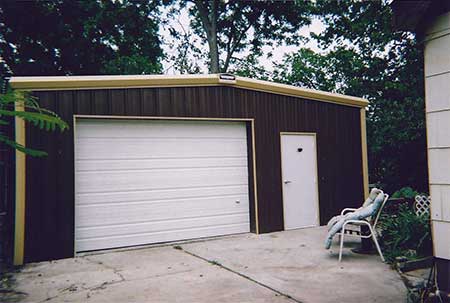 Protecting your vehicles and equipment from the effects of inclement weather can extend the working life of these essential items. At Aerohaus Metal Buildings, we specialize in providing the most cost-effective solutions for our commercial and residential customers. Our Houston metal garages are designed to provide reliable protection year after year, allowing you to enjoy the greatest return on your investment and the most practical storage solutions for your vehicles, equipment, machinery and maintenance needs.
Garages and Large Sheds
Our metal garages and sheds are ideal for use in residential areas and commercial properties and can provide greater security and protection against the elements for cars, trucks, SUVs, boats and other pieces of essential equipment. These strong and durable buildings are constructed to the highest standards of quality, allowing you to purchase with confidence from Aerohaus Metal Buildings. Our Houston building systems comply with all applicable codes to take the stress out of the purchasing and building process for homeowners, property managers and companies in our area.
Not Just for Cars and Trucks
Aerohaus Metal Buildings has built a solid reputation for quality over the last 35 years. We offer Houston hangar buildings designed to hold airplanes, helicopters and other aircraft safely and in a secure environment. Our Houston metal barns are engineered to stand up to the worst of Texas weather and keep your vehicles and equipment safe. Our team of construction engineers can also provide you with a full range of Houston steel buildings designed to provide superior durability and strength for your garages and large sheds.
Our Pre-Engineered Metal Building Solutions
By constructing many of the key components of your Houston steel buildings and metal structures off-site, we can cut costs and reduce the amount of work that must be done on your building site. This can allow your family or your company to enjoy a streamlined building process and a lower cost for your construction project. We work with you at every phase of construction to ensure that you receive the services and support you need. The design team at Aerohaus Metal Buildings can provide you with cost-effective solutions that suit the way you live and do business in the greater Houston metropolitan area.
Aerohaus Metal Buildings also offers turnkey construction services and ships our Houston building systems across the U.S. and to selected areas around the world. This added service ensures that you enjoy the greatest flexibility when managing your metal building needs in the state of Texas and everywhere else your company does business. By entrusting your construction projects to us, you can have the utmost confidence in the quality of the products you receive and the durability of your finished project. To learn more about the options available from Aerohaus Metal Buildings, call us today at 281-890-4700. We look forward to speaking with you.