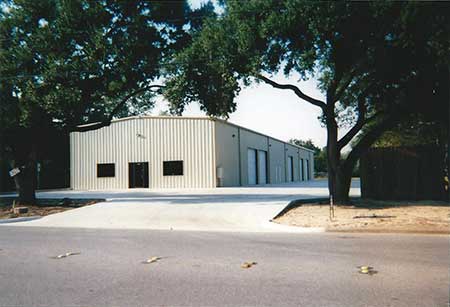 The correct buildings and storage solutions are critical in the distribution and warehousing industries. At Aerohaus Metal Buildings, we offer the best solutions for managing storage and inventory in the Houston area. We are a family-owned business with deep roots in the Houston area and 35 years of experience in metal fabrication and building construction. Today, we offer prefabricated and pre-engineered metal and steel building systems designed with the needs of modern businesses in mind.
Safe, Secure and Built to Last
Our Houston steel buildings offer unmatched durability and strength to stand up to Texas storms and daily use. We work with you to determine the correct size, configuration and materials to ensure that your warehouse or distribution center meets all your needs perfectly. Aerohaus Metal Buildings can provide prefabricated systems designed to provide secure storage for all your valuable inventory and to last for many years into the future. By working with us, you can enjoy the best in Houston building systems at the most affordable prices in the industry.
An Extensive Array of Outbuilding Choices
Aerohaus Metal Buildings also offers an array of other building choices for our customers. Our Houston hangar buildings are featured throughout the metropolitan area and deliver rugged, reliable performance. We also sell pre-engineered Houston metal barns that are created to your specifications and that provide your valuable equipment with added protection against theft, vandalism and the effects of wind and weather. From custom-designed Houston metal garages to sheds for residential or commercial use, Aerohaus Metal Buildings can deliver the options you need to manage all of your storage requirements.
Cost-Effective and Practical
The prefab and pre-engineered metal buildings we offer can streamline the construction process and can cut your costs to a considerable degree. By fabricating and assembling many of the components of our Houston building systems before they reach your construction site, we can reduce your contracting costs and ensure the most attractive and reliable results for all your building projects. Pre-engineered metal warehouses from Aerohaus Metal Buildings represent one of the most cost-effective ways to manage all your storage needs quickly and efficiently. We can even customize your warehouse spaces to provide added support for your ongoing business operations and workflow.
At Aerohaus Metal Buildings, we take pride in offering the most affordable and reliable solutions for our clients. Our turnkey construction solutions can be shipped across the country or around the world to provide added help for your domestic and foreign affiliates. We deliver the most cost-effective metal buildings in a wide range of configurations to allow you to enjoy true one-stop results. Call the friendly professionals at Aerohaus Metal Buildings today at 281-890-4700. We look forward to the opportunity to provide you with the best in the Houston building systems and pre-engineered metal building industry.