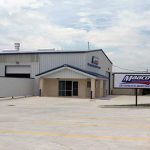 Metal buildings are well-suited to a wide array of applications in our area. Maintaining these Houston building systems in optimal condition can extend their lives and ensure the most attractive appearance for customers, vendors and staff members alike. Here are some practical tips for cleaning your steel and metal buildings effectively and safely.
Proceed with Caution
Before performing any major cleaning process on your Houston metal buildings, it is essential to shut off power to any exterior electrical devices, including lights, security cameras and LED signs. This can protect you and your staff members against injury during the cleaning process. By disconnecting the electricity before you start, you can promote greater safety at home, on your worksite or your business premises.
Use a Little Elbow Grease
Brushing your buildings with a recommended soft bristle brush can dislodge debris and dirt that might otherwise be missed. This step is especially important for steel buildings because it can reveal areas of corrosion or mold growth that requires further attention before more intensive cleaning can begin. If mold or mildew is present, a solution of bleach and water can often clear these areas to promote a healthier and cleaner working environment.
Invest in Power Washing
High-pressure power washing units are available for rent at most larger home improvement or hardware stores. Depending on how often you plan to clean your Houston building systems, purchasing one of these devices could be the most cost-effective choice for your business. Power washing your buildings can save time and effort when maintaining these structures in tip-top condition.
Follow the Directions
Your power washer unit will come with basic instructions on the right proportions of water and detergent to use when creating the cleaning solution. Loading the unit with the right amount of cleaning fluid ensures that you maintain optimal pressure and achieve the best results for your metal buildings in Houston. Most experts recommend using the lowest power setting to protect finishes and paint when washing metal structures in our area.
Rinse Well
Making sure that all traces of cleaning solution are rinsed away after power-washing your buildings can prevent damage to paint or surface coatings caused by prolonged exposure to these chemicals. By using clear water for the last pass with your pressure cleaning unit, you can create the most attractive results for your steel buildings in the Houston area.
At Aerohaus Metal Buildings, we design, sell and install Houston metal garages, hangars, barns, warehouses and other residential, industrial and commercial buildings. Our team of technicians can recommend the right type of Houston building systems for your needs and your budget. To learn more about our metal and steel buildings or to request a quote, call us today at 281-890-4700. We look forward to the opportunity to serve you.