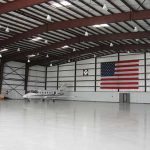 The right insulation solutions can boost the energy efficiency of your Houston steel buildings and can enhance comfort inside these structures. Understanding the different types of insulation available can help you make the right choices for these types of structures. Here are some of the most important points to consider when planning to add insulation to your Houston metal buildings.
What Type of Insulation Is Best for my Building?
Depending on the configuration of your metal building, you may be best served by installing one of the following types of insulation:
Loose-fill insulation consists of pellets and fibers that are blown directly into cavities within your building to provide an added barrier that can block the transfer of heat and cold. Depending on the configuration of your building, these types of insulation may also block sound to provide a more comfortable environment inside your Houston building systems.
Spray-foam insulation works in a similar way and is blown directly into the gaps and cavities inside your metal building. Once it has been applied, the materials used in spray-foam insulation expand and create an airtight barrier that prevents heat transfer and promotes the highest degree of energy efficiency for your Houston metal buildings.
Rigid-board insulation is usually constructed of polystyrene, fiberglass or polyurethane materials and can be cut to fit specific areas of your building. It is most often used to provide added insulating power for roofs and foundations and can be configured to fit cathedral ceilings for added interior protection.
Batt-and-blanket insulation is one of the cheapest options for insulating your Houston steel buildings. It can be applied to walls, ceilings and floors to provide an added layer of protection against outdoor heat and cold.
Your Houston metal building company can provide you with expert recommendations on the most practical solution for your building and your needs.
Benefits of Building Insulation
Creating a barrier between indoor spaces and outdoor temperatures can help you maintain cooler temperatures inside your Houston steel buildings during the hottest part of the year. Insulation can also reduce condensation on steel or metal components of your roof and walls. Condensation can increase the risk of rust, mold and mildew that can seriously affect the longevity and livability of your steel buildings. By investing in appropriate insulation, you can protect your structures from these unwanted conditions.
At Aerohaus Metal Buildings, we specialize in providing you with Houston building systems, metal barns, garages, hangars and other metal structures your company needs to expand and grow. Call us today at 281-890-4700 to get a quote for your next building from us. We look forward to the opportunity to serve you.