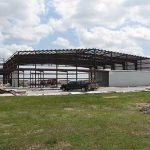 Metal has been used for millennia to create tools and to forge weapons. While the use of metal is now commonplace in Houston building systems, it was not until the 1700s that iron and steel were incorporated into construction in a practical way. Here are some facts about the history of steel and iron in building construction.
Fireproof Factories and Mills
In the late 1700s, builders in England first used metal components to create mills and factories for textiles and food production. These components were intended to provide added protection against fire in these high-risk facilities. The Belper North Mill was constructed in 1803 and featured an entirely iron frame, which provided outstanding fire protection and is still standing today. At that time, the high cost of these buildings made it difficult for most owners to afford the luxury of metal parts for their construction projects.
Military Uses
The Quonset hut was used extensively during World War II to house soldiers and provide storage areas in the field. These structures were far more primitive and less comfortable than the Houston metal buildings available on the market today.
The Rise of Steel Buildings
It was not until the 1970s that steel buildings truly came into their own in the U.S. marketplace. Pre-engineered building systems designed specifically for warehousing, storage, distribution and agriculture were used across the United States. The first of these buildings were basic shells that provided protection from wind and rain. Over time, the demands of customers and the need for greater energy efficiency changed the way steel buildings were designed and constructed. This led to improvements in the quality of steel and the construction methods used to create secure and stable building systems for the Houston marketplace.
Steel Buildings Today

Modern Houston steel buildings are designed to the highest standards of excellence in both energy efficiency and durability. These buildings are cost-effective and practical while offering superior strength and comfort for tenants and clients. Steel buildings offer significant advantages for businesses in the Houston area and are one of the most sustainable and green-friendly choices in the construction industry. Opting for these Houston building systems can speed the construction process and help you manage your budget more effectively.
The experts at Aerohaus Metal Buildings can provide you with the most advanced pre-engineered and custom steel and metal buildings for hangars, garages, warehouses, barns, distribution centers and office space. We work with you to determine the most cost-effective and practical solutions for all your building needs. Give us a call today at 281-890-4700 to schedule a consultation and to explore the options available to you in the Houston metal buildings marketplace. We look forward to the opportunity to work with you.