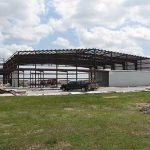 A number of different foundation types can be used to provide stability for metal buildings in Houston. The type chosen depends on several factors, including the grade and quality of the soil, drainage capabilities and how the finished building will be utilized. Working with a company that specializes in Houston building systems can help you achieve the best results from your upcoming construction project.
Three Basic Types of Foundations for Houston Steel Buildings
Most construction companies stick to one of three foundation types when constructing Houston metal buildings:
Floating slab foundations are constructed of grade-beam concrete. This reinforced concrete provides superior support for permanent structures and is resistant to settling or sinking, making it ideal for use on soft or clay soils like those found in and around Houston.
Pier, footing and grade foundations are good choices in areas with dry soil. These foundations consist of piers set atop footings, which are usually constructed with grade-beam concrete. Houston steel buildings constructed with pier, footing and grade foundations can stand up to wind and weather more effectively than those with other types of foundations.
A portable foundation generally consists of a concrete outline of the perimeter with an industrial plate bolted to it. This allows the entire building to be moved easily. Portable foundations are not considered as durable or resistant to wind as permanent options.
Steel building foundations can provide a solid anchorage point for these buildings in our area, allowing you to expand your warehouse space or provide office facilities for employees of your company. Your Houston building systems construction company can help you determine the right foundation for your property and your needs.
Challenges Specific to Our Area
Coastal regions in general and the Houston area in particular are prone to clay soil, which can expand and contract depending on moisture levels and weather conditions. Building foundations on clay soil requires a lot of experience and knowledge regarding the properties of clay and its propensity to absorb and release moisture. By choosing a company with an established presence in our area, you can ensure the best results for your construction projects.
At Aerohaus Metal Buildings, Inc., we have more than 35 years of proven experience in building Houston metal garages, hangars, steel buildings, barns, warehouses and commercial construction projects of all types. We work with you to determine the most cost-effective and practical solutions for your requirements. Give us a call today at 281-890-4700 to request a quote or to schedule an appointment with us. We look forward to the chance to serve you.