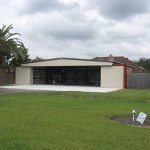 Making sure that aircraft are protected against the effects of wind and weather can extend the useful life of these expensive modes of transportation. Steel hangars are among the most popular choices thanks to their solid durability and protective properties. Here are some of the most important benefits of these Houston metal buildings for aircraft storage and maintenance tasks.
Durability
Steel is one of the most durable building materials available and can stand up to wind and weather while looking great year after year. Unlike wood products, steel is impervious to insect infestations and resists the formation of mildew and mold even in the wettest weather. This high degree of durability makes steel an outstanding choice for ensuring a solid return on an initial construction investment.
Fast Assembly
Like other prefabricated Houston building systems, steel hangars can be set up and completed quickly and easily. This can reduce the cost of labor when building these structures and can help you get your aircraft maintenance and storage operations up and running more quickly.
Energy Efficient
When properly insulated, steel buildings can offer solid energy efficiency that can reduce the cost of heating and cooling these indoor spaces. This can lower your operating costs while ensuring a comfortable environment for your clients, your employees and yourself.
Solid Protection for Aircraft
By choosing steel as the building material for your hangars, you can provide superior protection against major storms and straight-line winds. This can reduce the chance of damage to valuable aircraft during unexpected weather events.
Configurability and Scalability
The versatility of Houston steel buildings is unmatched in the construction industry. Steel and metal buildings can include oversized doors suitable for aircraft and can be set up to accommodate planes and craft of almost any size or shape. For maintenance hangars and storage facilities, the ability to expand to accept multiple aircraft can ensure the highest degree of flexibility for owners and space providers.
Affordability
Prefabricated steel and metal buildings are among the most affordable options in the Houston construction industry. By opting for these rugged materials for your next hangar project, you can lower the cost of your construction without cutting back on quality.
The experts at Aerohaus Metal Buildings can help you with the most practical solutions for all your Houston steel and metal building needs. We have more than 35 years of experience in the Houston metal buildings industry and can help you determine the best possible approach to your next construction project. Call us today at 281-890-4700 to request a quote or to discuss your options with one of our talented technicians. We look forward to working with you.