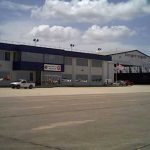 Choosing the right materials for your commercial or industrial building can have a significant impact on its functionality and longevity. Houston metal garages and other metal structures can offer real advantages for your company thanks to their durable construction and low initial cost. Here are some of the most important benefits of choosing a metal or steel building for your next building project.
Low Maintenance
The easy-care attributes of steel and metal buildings make them an ideal choice for warehouses, garages and hangars. Many of these Houston building systems are installed with coatings and paint already in place, allowing you to enjoy greater durability and reduced maintenance throughout the life of your metal building.
Faster Construction
Most Houston metal buildings are designed to allow for modular construction. This can significantly reduce the time it takes to build these structures and to prepare them for use. By opting for metal building systems, you can enjoy your new premises or storage space more quickly and with lower labor costs for your project. If time is of the essence, metal buildings may be the answer for your company.
Affordability
In most cases, metal buildings cost much less than traditional buildings and can provide many of the same benefits as these structures. Metal and steel buildings can be insulated and decorated to look and perform just like conventional buildings at a much lower cost. This can help you manage your budget while enjoying the fastest and most practical solutions for office space, retail enterprises and storage and distribution centers in the Houston area.
Durability
The rugged durability of steel buildings is one of the most important selling points for these advanced Houston construction systems. Steel and metal buildings are designed to stand up to the worst of wind and weather without breaking down or requiring extensive repairs. This can save you a considerable amount of stress and worry after major storms in our area.
Lower Insurance Bills
Depending on your insurer, you may be able to qualify for significant discounts on your premiums thanks to the fire-resistant qualities of steel buildings. This can add up to considerable savings over the life of your building and can serve as a positive incentive to consider these options when planning your building project.
At Aerohaus Metal Buildings, we specialize in pre-engineered and custom-built structures that suit the way you do business today. We serve the Houston area with hangars, storage facilities, garages, office buildings and many other metal and steel building options. Call us today at 281-890-4700 to schedule a consultation or to get a quote for your project. We look forward to working with you.