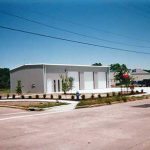 The right entryway solutions can enhance the appearance of your business and can provide easier access for people and materials. Choosing the right doors for your Houston steel buildings can be challenging, however. Working with a company that specializes in these advanced construction options can help you make the best decision for your business needs. Here are some of the available types of doors for your Houston metal buildings.
Metal Entry Doors
Designed to provide a welcoming entrance for your commercial facility, these doors are usually too narrow for loading and unloading and are not suited for allowing vehicles to enter your metal buildings. For these reasons, they are usually combined with a larger door somewhere in your facility to allow you to enjoy the greatest flexibility when putting your Houston building systems to use.
Rolling Sheet Doors
Overhead sheet doors can be a practical and versatile solution for Houston metal garages and other industrial applications. They are available in a range of widths and heights to accommodate most vehicles and machinery. Rolling sheet doors are extremely durable and require minimal maintenance, making them a cost-effective choice for your business today and for many years to come.
Sectional Overhead Doors
Like sheet doors, sectional doors are designed to slide overhead to open. These doors, however, consist of just a few horizontal sections that fold up in much the same way as many residential garage doors. Bifold doors are a special subsection of these types of doors and are ideal for airplane hangars and other facilities in which overhead clearance is essential.
Hydraulic Doors
Also referred to as hydro-swing doors, these entryways are powered by hydraulic actuators and offer significantly greater ease of use than most other options. By powering up your commercial doors, you can boost the productivity of your staff while reducing their workloads to a significant degree.
Metal Hangar Doors
If you require a strong, long-lasting door that can span a significant width without additional supports or columns, heavy-duty steel doors are designed specifically to meet your needs. These doors are best suited for storing large agricultural equipment or as entry points for aircraft hangars and can be sized to fit almost any steel or metal building.
The construction experts at Aerohaus Metal Buildings can help you decide on the right entryway solutions for your Houston steel buildings. We will work with you to design and create the commercial buildings you need at a cost your company can afford. Call us today at 281-890-4700 to get a quote and to discuss your upcoming construction project with us. We look forward to working with you.