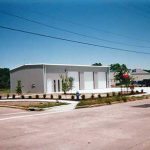 Steel buildings can be a solid investment in storage and office space for your company. Maintaining these Houston building systems properly can ensure greater longevity and increased utility for your business needs. When properly cared for, metal buildings offer superior durability and can last much longer than other building material options. The right maintenance regimen can help you make the most of your investment in your steel and metal buildings. Here are some key elements that should be incorporated into your structural maintenance plan.
Regular Inspections
Especially in our part of Texas, high winds and severe storms can cause damage to structures in their path. Checking the condition of your metal buildings on a regular basis and scheduling extra inspections after storms can prevent damage from going unnoticed. This can ensure the safest environment for your products and people and can help extend the useful life of your Houston steel buildings.
Exterior Cleaning
Regular cleaning can enhance the appearance and improve the longevity of Houston metal garages, warehouses and other commercial buildings. Consulting with your building contractor is usually the best way to determine the right cleaning method for your structure. In most cases, however, power-washing at low pressure levels can produce the desired results without damage to your metal building.
Prompt Repairs
Making sure your gutters are cleaned regularly can prevent standing water from causing damage to the adjacent roof structure. If any signs of corrosion or damage are present, however, making sure that these issues are addressed promptly can help you prevent further issues that could significantly reduce the lifespan of steel Houston building systems.
Insulation Checks
Especially for office spaces and other temperature-sensitive areas, making sure that your insulation is adequate and in good condition can reduce cooling bills and ensure the most comfortable environment for your staff members and guests to your facilities. Over time, exposure to water can reduce the effectiveness of insulation. Checking on its condition at least once a year can prevent the growth of mold and mildew while protecting the longevity of your property.
The construction team at Aerohaus Metal Buildings can provide you with the most advanced Houston building systems and the most effective solutions for your structural requirements. We have more than 35 years of experience in metal building technologies that work for companies in Houston and the surrounding areas. If you need commercial, retail or storage solutions designed to suit your needs and your budget, we can deliver the best options for you. Call us today at 281-890-47090 to learn more about our innovative metal and steel buildings and how they can help you enjoy the greatest return on your real estate investment. We look forward to the opportunity to serve you.
Save
Save