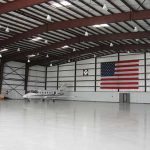 Choosing the right construction solutions can have a significant impact on your company's return on investment. Opting for Houston metal buildings can reduce your initial outlay for these real estate investments and can significantly improve your corporate bottom line. These cost-effective building choices can provide a comfortable and practical environment for your staff members and customers while representing a solid use of available funds for your business.
Immediate Cost Benefits of Metal Buildings
Because metal buildings are often partially or completely prefabricated, they can take much less time to construct on your worksite. This can save you money on labor and can provide you with added flexibility in managing inventory and dealing with space requirements. These construction solutions are typically less expensive than comparable traditional buildings, making them a solid choice for businesses on a tight budget.
Long-Term Advantages of Houston Metal Structures
Metal buildings require minimal maintenance, allowing your company to lower its overhead costs and reducing downtime during regular operations. Houston metal garages, barns and hangars offer extreme convenience and can be configured to suit the needs of your company. If extra space is needed, the minimal footprint of these buildings can allow easy expansion of your available space without extensive construction or rebuilding efforts. The solid durability of steel and metal buildings can also allow you to see a greater return on your initial financial investment over many years of use.
Environmental Benefits of Houston Metal Barns and Buildings
The materials used to manufacture metal and steel buildings are recyclable, allowing you to enjoy the benefits of green-friendly operation throughout your business. The reflective qualities of metal roofs can potentially lower the cost of cooling these buildings by up to half, allowing you to reduce your carbon footprint and conserve energy usage. Houston metal buildings are designed to allow easy installation of solar panels, allowing your company to take advantage of these advanced alternative energy sources without extensive reconstruction.
At Aerohaus Metal Buildings, we specialize in providing Houston metal buildings and structures designed to meet the needs of our customers. From large-scale commercial buildings to garages, hangars and barns, we can create the right solutions for almost any need. Our pre-engineered buildings are durable and rugged enough to stand up to the worst of Houston weather, allowing you to enjoy cost-effective functionality for many years into the future. Call us today at 281-890-4700 to request a quote for your project or to discuss your needs with one of our experienced construction engineers. We look forward to the opportunity to work with you.