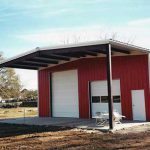 Metal garages offer significant advantages for residential and business property owners. These Houston building systems are durable, easy to maintain and offer an excellent return on your initial investment. Here are some of the most important benefits of metal garages, carports and storage buildings for your Houston home or business.
Solid Durability
Houston metal buildings are designed to stand up to rain, wind and weather and to look great now and for many years to come. This can provide added protection for vehicles and equipment stored in these garages. Aircraft hangars are typically built from metal to ensure the highest degree of protection for valuable aircraft. By opting for steel verses wood or other materials, you can ensure the greatest longevity for your garages, hangars and storage buildings.
Easy Assembly
Many Houston metal garages are prefabricated. This means that the components are manufactured elsewhere and delivered to the site to be assembled by a team of construction experts. This can save considerable time and can reduce your labor expenses, allowing you to enjoy the most cost-effective solutions in the construction industry.
Minimal Maintenance
Steel garages are designed to require minimal annual maintenance. This can save you time and money over the lifespan of these buildings and can allow you to enjoy added flexibility when planning your schedule. Regular inspection of both the exterior and interior of your metal building can help you to identify any developing issues and to resolve them quickly and effectively. In general, washing your building once a year and touching up paint as needed can keep your Houston metal garage looking its best.
Multiple Configurations
Houston building systems offer unparalleled versatility in design and configuration options. If you require a custom size or configuration, these buildings can be constructed to your precise specifications to ensure the greatest utility for your home or business. Insulated buildings can provide added protection against outdoor temperatures and can allow for climate-controlled comfort inside these structures.
Lower Price
Because of the innovative manufacturing techniques and easy assembly of Houston metal garages and hangars, these buildings are typically much less expensive to construct than comparable wood and concrete garages. This can help you manage cash flow more effectively when planning and carrying out your project.
The specialists at Aerohaus Metal Buildings can provide you with the most accurate guidance and the best options for your Houston building systems, garages, hangars or other storage facility. We will work with you at every step of the way to make sure that your project is completed on time and to your complete satisfaction. Call us today at 281-890-4700 to discuss your plans with us. We look forward to the opportunity to serve your metal building construction requirements.
Save
Save
Save
Save