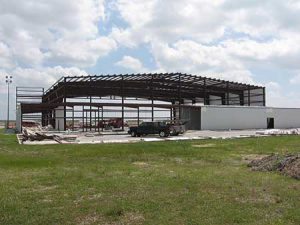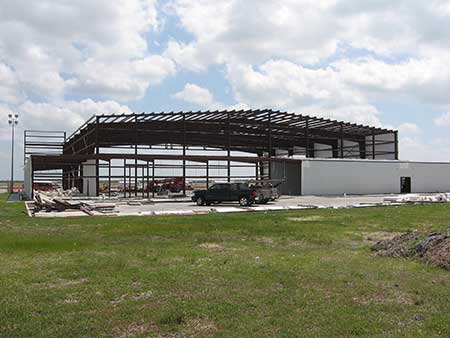 Despite fluctuations in the state of the economy, changes in tariffs and increases in the price of imported commodities, Houston steel buildings continue to represent a real bargain in the construction marketplace. A number of factors play a role in ensuring the affordability of steel buildings and their continuing popularity. Here are some of the primary reasons that steel buildings are one of the most affordable options for commercial enterprises in our area.
Pre-Engineered Systems Save Time
Because pre-engineered Houston building systems are ready for assembly on your worksite, they require much less labor than comparable buildings that must be constructed from the ground up. Some estimates indicate that steel buildings cut construction time by up to a third. This can save considerable time and money for your company in completing your building project in our area. Choosing pre-engineered steel building systems for your next project can help you manage costs and meet deadlines more easily.
Steel Buildings Are Precision Fabricated
The techniques used to create Houston metal garages, hangars and other buildings allow the highest degree of precision for the components used in these construction projects. Increased precision allows the component parts to fit together more accurately, ensuring greater energy efficiency for greater affordability and enhanced comfort throughout the life of these buildings.
Steel Prices Are Still Low
Despite changes to the tariffs placed on imports, steel is one of the most affordable building materials on the market. Steel is recyclable and retains its tensile strength and durability after reprocessing, allowing you to enjoy the benefits of this proven construction material at a much lower cost than most other options.
Fireproof Steel Can Cut Insurance Costs

After your construction project is complete, your steel buildings can still save you money on insurance premiums. Steel is naturally fireproof and reduces the spread of flames inside your building. This can cut down on the cost of insuring your building and can provide improved protection for the people and property inside these metal structures in the Houston area.
At Aerohaus Metal Buildings, we specialize in providing custom metal buildings for customers throughout the Houston area. We have more than 35 years of experience in designing, manufacturing and building steel structures to the precise specifications of our clients. We also offer turnkey solutions to save you time and money. Our building technicians can provide you with hangars, barns, storage facilities and office spaces that offer superior durability and longevity for your business. Call us today at 281-890-4700 to set up an appointment or to get a quote for your next project. We look forward to working with you.