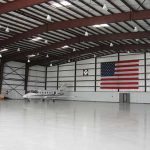 Introducing natural light from outdoors can provide significant benefits for Houston building systems and other commercial and residential installations. Light-transmitting panels, also referred to as LTPs, are one of the most innovative and practical solutions for letting light shine in through the roof or walls of a metal building and can provide real advantages for businesses and homes in our area. Here are some of the most important benefits and drawbacks to LTPs for your next building project.
New Materials Make LTPs More Durable Than Ever
Fiberglass skylights have been an accepted option in the construction industry for decades. These materials were relatively affordable but could yellow over time. Additionally, some skylights were susceptible to deterioration of the seals that could allow leaks and damage to property. Newer materials have eliminated most of these issues and provide real performance for builders and property owners:
Polycarbonate panels offer superior strength and durability. This material is also highly resistant to discoloration or yellowing and often comes with a warranty to offer added peace of mind.
Polyvinyl chloride, most commonly referred to as PVC, is a practical choice when cost is an important consideration. LTPs constructed of PVC materials are often translucent rather than transparent.
Translucent concrete is one of the newest arrivals in the LTP marketplace and uses advanced formulation techniques to achieve the strongest and most attractive results. In some cases, optical fibers may be used to transfer light from one side of the panel to the other, delivering natural light to spaces inside your commercial buildings.
These materials can offer added health and morale benefits for workers and residents in Houston metal buildings.
Benefits of LTPs
Increased exposure to natural light can offer significant benefits:
Improved morale and mood among tenants and employees
Lower lighting costs, especially for larger buildings
Increased absorption of vitamin D
Enhanced interior design
These advantages can serve as selling points for tenants and can provide real benefits for your staff members in Houston building systems.
Drawbacks of LTPs
LTPs do come with a few disadvantages, including the following:
Higher costs for construction
Increased heat gain on sunny days, especially for clear overhead LTPs
Greater risk of leaks around the edges of the installation
Additionally, extended LTPs can result in too much light in some areas and may require shades to offer greater control over glare and excess light.
At Aerohaus Metal Buildings, Inc., we can design and construct all types of metal buildings to include Houston steel barns, metal hangars, commercial and retail buildings and warehouses to suit your needs. We offer turnkey building systems and construction options that are customized for you. Call us today at 281-890-4700 to get a quote for your building project. We look forward to help you with all of your metal building needs.